Near Château-d'Oex and Gstaad, the village of Rossinière is the charming setting of the Jardins de la Tour. This restaurant, owned by Patrick Gazeau, is a favourite food-lover's venue with 16 Gault Millau points, and offers inventive cuisine based on local produce.
In the heart of Pays-d'Enhaut, in the Vaud Alps, the village of Rossinière is an oasis of nature and tranquillity. The location is also well-known to gourmets, thanks to the Jardins de la Tour. This fine dining restaurant (16/20 points in the Gault Millau) is set within a magnificent wooden chalet. In summer, the Alpine atmosphere of the dining-room gives way to an enchanting green terrace, with a view of the mountains. Chef Patrick Gazeau highlights regional produce in his cooking, but above all, his love for fish and seafood.

Several years ago, Chef Gazeau discovered the gastronomic possibilities of mountain flowers and herbs. He began by using the fruits of his foraging to decorate his dishes with their bright colours. As time passed, the mountain plants became ingredients in their own right, whose fresh flavours enhance creative dishes.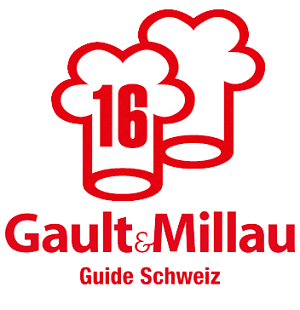 Rue de la Placette 16
1658 Rossinière - CH
Practical information

Restaurant : Closed on Mondays and Tuesdays all day and the Sunday evening.
---
---
min.---°C / max.---°C